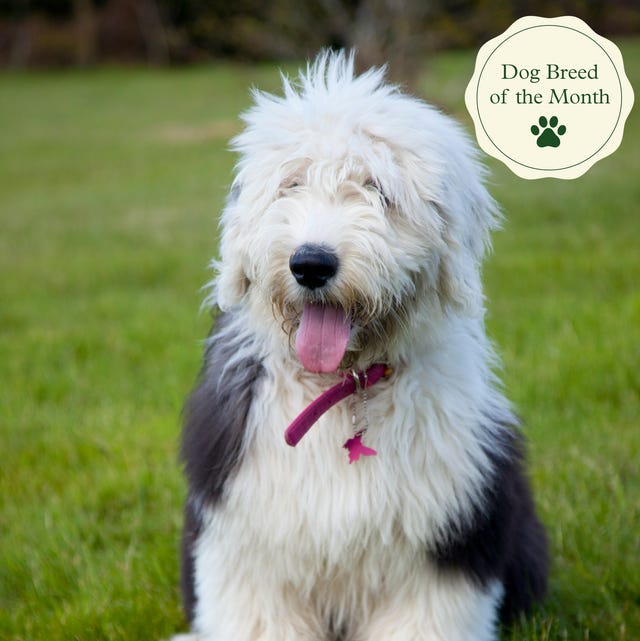 SashaFoxWaltersGetty Images
Each month we will be shining a light on different dog breeds in our monthly series, Dog Breed of the Month. First-upwe look at the lovable Old English Sheepdog, from their personality to grooming requirements.
"Old English sheepdogs are very energetic and require a household where they can have lots of exercise and play," PDSA Vet Claire Roberts tells Country Living. "Training will help stop them from getting bored. They have a double coat, which consists of a longer, protective top coat and a soft undercoat. This acts to keep them warm and dry, but it requires a lot of grooming and care!"
In recent news, the Old English Sheepdog is no longer at risk of extinction following an increase of 66% in puppy registrations last year, the Kennel Club has found. The shaggy white pup moved to the Vulnerable Native Breeds list in 2020 after falling below 300 annual puppy registrations, but has now seen a significant surge in registrations far exceeding the national average.
Take a look at everything you need to know about these pups…
Do Old English Sheepdogs make good pets?
Yes, Old English Sheepdogs do make good pets. They were developed as a drover's companion that could work in the changing climate of the English countryside. With a thick double coat and loving personality, he is an ideal family pet that needs plenty of human attention.
---
Are Old English Sheepdogs high energy?
Originally bred for driving cattle and sheep, Old English Sheepdogs are active and high energy dogs that need a minimum of two hours exercise every day. If you love getting out and about, then these pups are perfect for you.
---
What is the history of Old English Sheepdogs?
"Old English Sheepdogs are thought to have descended from Scottish or Bearded Collies in the 18th Century. They were bred in the South West to drive sheep and cattle to market," Claire tells us.
---
11 things to know about lovable Old English Sheepdogs
grooming will become part of your weekly routine
You might recognize them as being the famous face of Dulux paint
They love long walks
They are loyal, protective, sociable, and will go anywhere and do just about anything you want
Sadly, there has been a steady decline in the popularity of the breed over the years and in 2018 it recorded its lowest number of registrations ever with just 384 puppies registered
They are a gentle giant but still has a herding tendency
Old English Sheepdogs are a fairly modern breed that first emerged in England in the 1800s
Farmers used them as 'drover dogs,' driving livestock to market as well as pulling carts and wagons
They get along well with families and young children
They can compete in dog agility trials, obedience, tracking, and herding events
They have been featured in films before, such as in Disney's 1959 comedy, 'The Shaggy Dog,' which was about a boy who is turned into an Old English Sheepdog
---
What diseases are Old English Sheepdogs prone to?
According to Animal Health Centre, Old English Sheepdogs are susceptible to bacterial and viral infections, such as parvo, rabies, and distemper (although other dog breeds can get these too). Many of these infections are preventable through vaccinations, so it's important to head to your local vet for more information.
Claire continues: "They can be prone to some health issues including arthritis and gastric dilation volvulus (GDV), which is sometimes known as 'bloat'. This is where the stomach bloats and twists around itself, which can be fatal if left untreated. "
Follow Country Living on Instagram.
This content is created and maintained by a third party, and imported onto this page to help users provide their email addresses. You may be able to find more information about this and similar content at piano.io