Despite only being a four-part ABC series, Muster Dogs you have rapidly won over a legion of fans.
These fans have no problem cornering me at work and demanding I review the series, which they have labeled "better than Farmer Wants A Wifebetter than anything".
The show is meant to be an experiment to see if a stock working dog can be trained up in just one year — a third of the time it normally takes.
Five littermate siblings are split between five farms in episode one, spanning across the Pilbara and Kimberley in Western Australia, NT, Queensland and Victoria.
In the first three minutes we already have the 'dog vs machine' debate brought up.
The debate boils down to this: People who use dogs believe it reduces stress on the stock and calms them, while people who use machines believe dogs cause unnecessary stress on a herd.
Muster Dogs offers a lot of insight into the 'pro-dog' mentality, with a fair chuck of the trainers converts from 'pro-machine' families.
As the narrator tells us: "Many farmers are turning away from using motorbikes and helicopters as muster dogs prove to be cheaper, more reliable and reduce the stress on livestock."
This same narrator could stand to turn it down a bit. At points it feels like I'm listening to Playschool and learning how to paint an egg carton, but this might be a reflection on the fact the ABC expects Muster Dogs to be a big hit with kids.
Episode one is a fantastic hour of television and a good choice for that slice of time after tea and before bed.
Episode two has been described as a bit slower and less engaging, but still a very interesting watch for dog lovers and amateur trainers.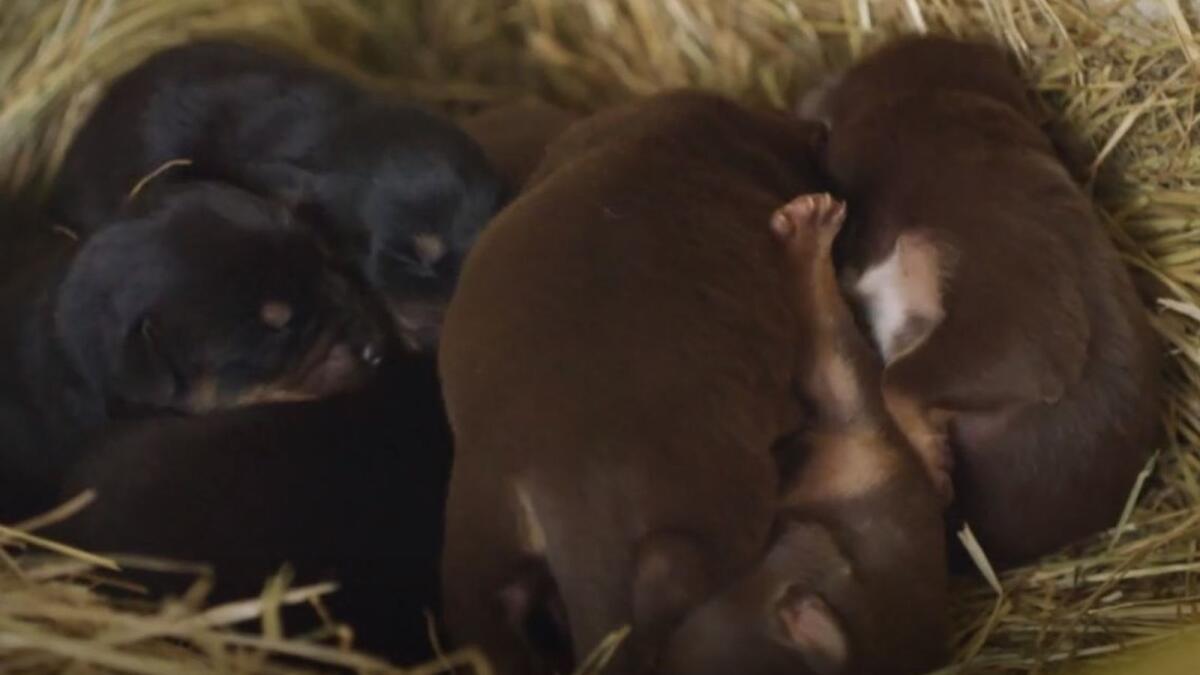 In the first episode we're introduced to the breeder, Joe Spicer from GoGetta Kelpie Stud in Hamilton, and dog trainer Neil McDonald.
If you're in the working dog world, both those names might ring a bell.
Both men believe a dog can be trained in 12 months, but it will all hinge on the owner.
Hence, we are introduced to the five trainers taking part in the experiment.
The Victorian is almost immediately written off as a lost cause.
"Rob is the problem child," Neil McDonald tells us.
Edenhope sheep farmer Rob Tuncks is the least experienced dog trainer of the group, making him and pup Lucifer the true underdogs.
"We call him Lucifer because he's a proper shit," Rob reveals.
Up In Douglas-Dalby we're introduced to horse trainer and cattle station owner CJ Scotney.
CJ usually gets her dogs pre-trained to save time, put took on the pup challenge because she is "very excited to get a Joe Spicer pup".
"We chose to use working dogs over employees because it's more viable to our business," CJ says.
"We're not having to retrain employees and we don't have the costs of having to fix quad bikes."
In Clermont, Queensland, we meet our only old guy. Frank Finger runs Brahman and Simme on a cattle property his family has owned for more than 100 years — but he's the first to use dogs.
Frank works with a pack of eight dogs and he raises a very important ethical question in front of the cameras, admitting he never takes a dog into a big paddock until they are at least two years old to avoid losing them.
The ABC responds to this by shrugging it off and effectively saying 'well, you've never had a pedigree dog like this!'
Next is Joni Hall from Kununurra who travels in a truck with 20 dogs training weaner cattle for farmers.
Last is Aticia Gray from Glenflorrie Station. The young station manager is the only one in drought and has retained a small herd of cattle on property to keep her dogs working and effectively 'well oiled'.
All four parts are up on ABC iview, making it perfectly possible to watch part 1 and jump straight to part 4.