WATERTOWN — At Hospice of Jefferson County on Thursday afternoon, playful barks could be heard and wagging tails seen as furry friends Nora June Shultz and El Floyd Smiley used up some of their energy before bringing love to waiting patients.
El and Nora are the newest Hospice support puppies in training. He, a golden retriever, is 3 months old but is already nearly 30 pounds. Nora, a miniature labradoodle, is 4 months old and weighs about 14 pounds. Though young and untrained, the two are already well on their way to making every day matter for Hospice patients and their families.
The two puppies help make up the therapy and volunteer dog team for Hospice, along with a few older, furry coworkers, including goldendoodle Jack Kellogg, Hospice administrative dog; therapy dogs Casper and Lucy Thornton; and therapy dog ​​BoSox Deuson. BoSox is owned by volunteer Tom Deuson and described by Kathy L. Arendt, director of marketing and community relations, as the organization's "older statesman," who has been the go-to therapy dog ​​for years.
Predecessor of El, Floyd Smiley was another golden retriever who brought great joy to staff and patients alike during his visits to Hospice before his death last year at the age of 14. He is remembered fondly by all who knew him. After Floyd's passing from him, those at Hospice decided it was time to bring two new puppies into the mix. Now, he carries on his legacy from him for the Smiley family.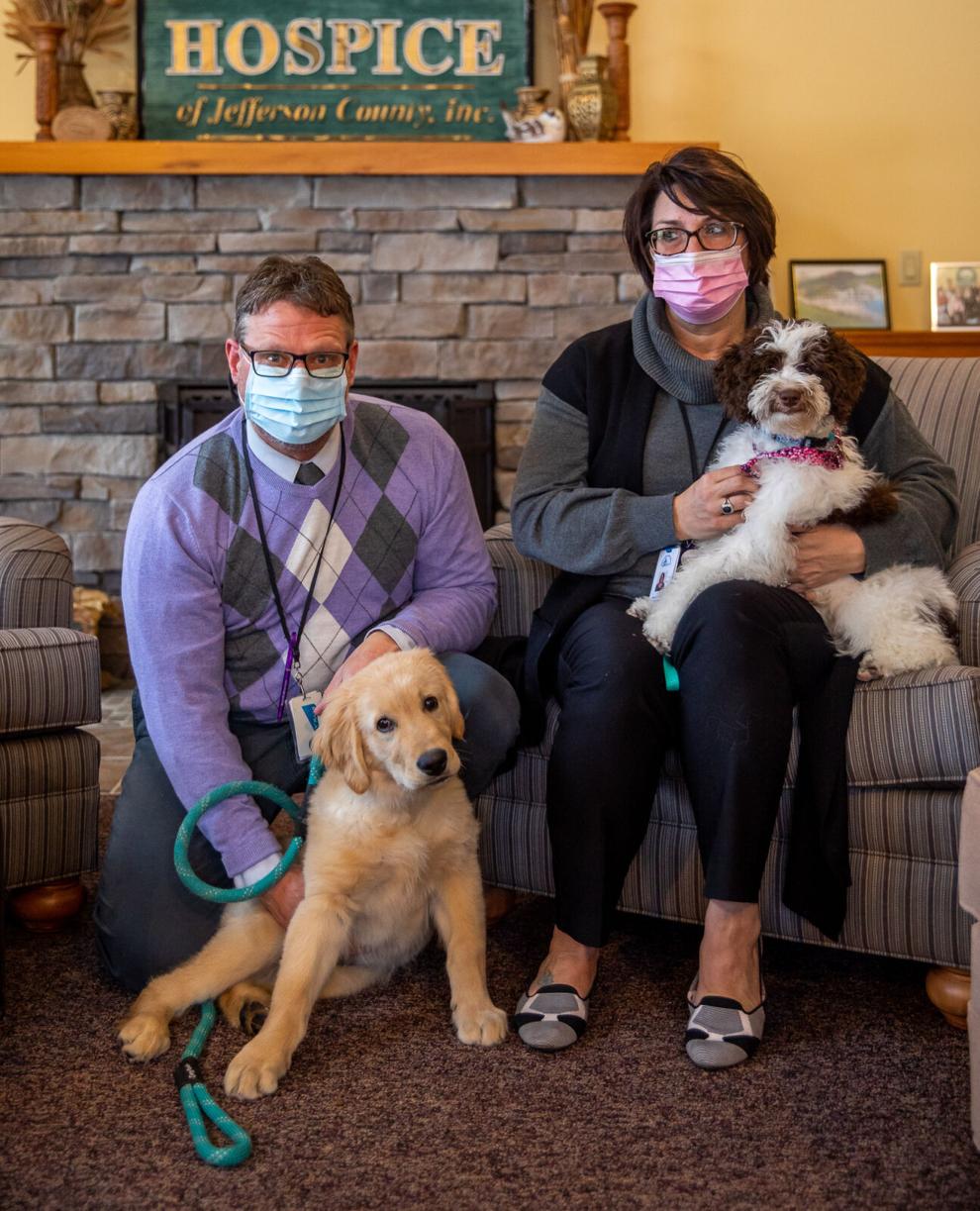 "We've been doing this for a while and not many people know about it," Mrs. Arendt said of Hospice's therapy dogs. "We want people to know that Hospice is all about making the days count. Hospice is more than just nursing; we have many services that we provide to our patients and their families. And the other thing that we want to get across is our patients are not only senior citizens, we take care of all ages and the pets play a very important role in taking care of and helping to comfort our patients and families."
Training for the new recruits will take about a year. El and Nora are well mannered, albeit prone to goofing off, and are very treat-oriented for the time being.
With comfort care being Hospice's primary goal, animal-assisted therapy is a great option for providing comfort to patients. Social and emotional benefits of pet therapy include the lifting of spirits, a decrease in feelings of isolation and alienation, feelings of comfort and reduced boredom.
Hospice patients are not the only ones who benefit from visits with furry friends. Staff use them for therapy after particularly long days or as a general mood boost.
"My goal is to bring comfort and stress/anxiety relief to employees as well as patients," said Nicole A. Schultz, Nora's owner and Hospice navigator. "If we can help in any way, then Nora has done her job for her."
Hospice also offers a Pet Peace of Mind program. Based on the belief that no one should have to give up a pet because they're terminally ill, the Pet Peace of Mind program helps keep pets and people together through Hospice care.
For many in Hospice care, physical decline impacts a patient's ability to enjoy socializing and maintaining human relationships. Pets often fill that void as they offer unconditional love, acceptance, comfort and companionship at a time when it's needed most. Pet Peace of Mind, a national program, enables Hospice patients to keep their pets at home throughout their end of life journey. The program provides food, veterinary care and other pet care needs at no cost to patients. Hospice also helps with rehoming pets should the need arise.
Those interested in learning more about the program can contact Hospice of Jefferson County at 315-788-7323.
Fundraising for the training of the newly recruited Hospice pups will be donated through the Pet Peace of Mind program. Mrs. Arendt said Hospice is hoping to partner with schools and get teens to get involved and receive credit for public service hours while helping Hospice. A summer event is being planned in conjunction with the Watertown Rapids baseball team for children to meet the Hospice therapy dogs. Details for the event are forthcoming.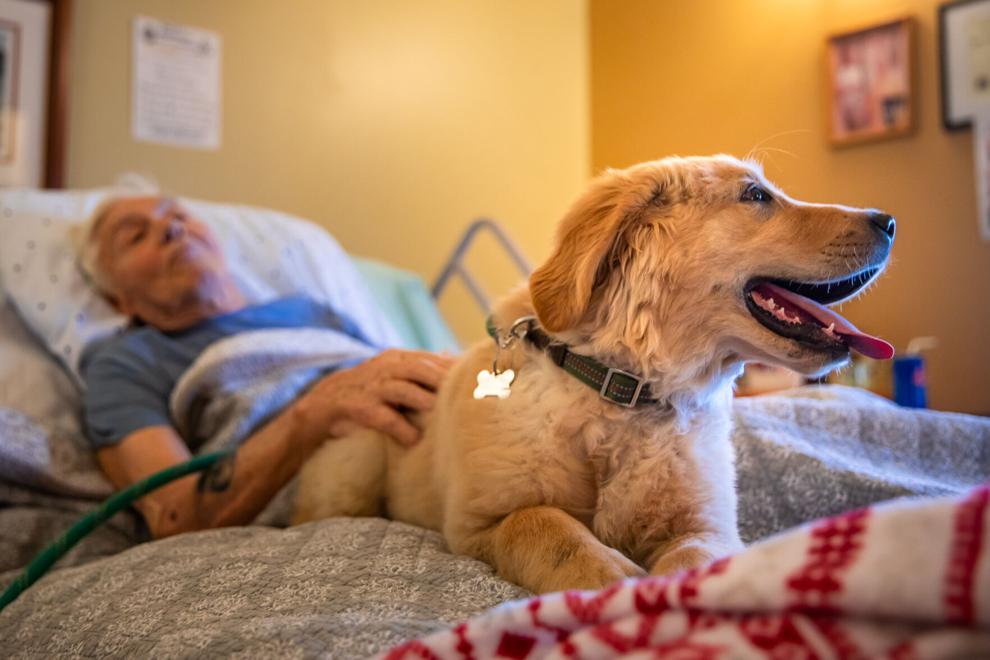 Shawn C. Smiley, weekend on-call nurse at Hospice and one of the registered nurses who sees patients in their homes, brings El with him to visit patients. Mr. Smiley noted how the demeanor of many patients changes when they see a furry, friendly face, and that they get a bit of their spark back.
"I think there's just a very basic human need for contact and touch," he said. "And being with another living being, especially dogs that just show unconditional love and bring a kind of peace and serenity, really translates directly to how a patient and their families can understand that. Often it will bring back memories of past pets, experiences that they remember with their own animals. I know medical research has shown that it changes brain chemistry; contact with animals in general, young children and babies can promote brain chemicals like oxytocin or serotonin and release endorphins."
Mr. Smiley said he has heard many times that after a visit from El, or previously from Floyd, that it was the first time a family member had seen their loved one smile in a week, or the first time they'd seen them calm in a while.
Mr. Smiley began bringing Floyd with him to work as soon as he started working for Hospice about five years ago. He said some of the qualities that make for good therapy dogs include being gentle, warm-hearted and calm. Being a puppy, El is not always the most calm, Mr. Smiley said, but he'll learn as he moves through training.
Thursday afternoon, with rain falling outside, spirits were high indoors at Hospice as El and Nora did what they do best — bring joy to those around them.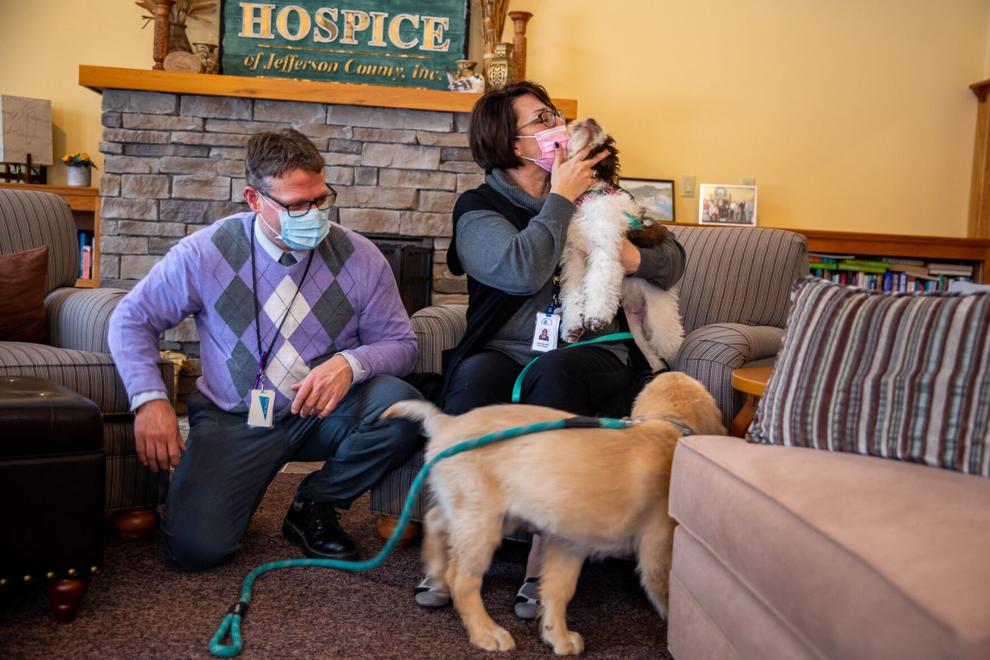 One of the patients they visited was Bill Couchman, who said he enjoys it when the dogs come to visit, even if he prefers cats. Thursday was his first time meeting Nora, who made him perk up and start asking Mrs. Schultz questions about her, like where she got her from her.
El was born on Nov. 5, 2021, and Nora just a few weeks before on Oct. 23, 2021. Nora will begin her formal behavioral training in April. Mrs. Schultz said the instant she brought her into the building, everybody adored her.
"I just saw the joy that she was bringing to everybody," she said. "For example, today one of our social workers came into the office and said, 'I just need to lay with you.' She laid right down and Nora laid on her chest de ella and she just loved her up — that was what she needed. I knew that we're doing the right thing."
.