Faced firsthand with the challenges of finding dog wear that addressed the needs of their beloved whippet, Bruce, the founders at BASTARDS Dog Wear put their 10+ years of industrial design experience and fashion forward perspective to work, creating the most technologically advanced dog wear around. BASTARDS' function-first dog wear is meticulously made to accommodate the varying body types and lifestyles of all dog breeds, from the couch potatoes to the speedsters like Bruce. "Our thought was: if big sportswear companies invest millions in development of sportswear for humans who run at 10km per hour, why does not one invest in our best friends who can run up to 70km per hour?" explains the team. "Instead of millions, we invested a lot of passion and knowledge, and took time to observe our dog and the way he moves."
In doing so, BASTARDS created a line of high-tech dog wear that delivers ergonomic performance and a modern, industrial look that'll make your dog the coolest canine on the block. Find BASTARDS' expertly crafted dog wear and accessories in the Design Milk Shop and read on to discover our favorites.
Chill Spot Dog Bed
A plush, pillowy dog ​​bed designed to be easily moved around the house, the Chill Spot Dog Bed is sure to be your dog's new favorite hangout spot. Handmade using luxe black velvet, this ultra-soft dog bed lends a modern, elevated look to your home decor. Even better, the filling is consciously made using recycled foam and scraps left over from other BASTARDS designs! Fluff it up for extra coziness or pack it down for a firmer curl-up spot for your pup. Dog parents will also appreciate that the Chill Spot cover is machine washable for added convenience.
$153+
BASTARDS Dog Leash
A minimalist, modern dog leash with bold industrial elements, the BASTARDS Dog Leash is a one-of-a-kind dog walking accessory. Made of aramid – a resilient material that can withstand 2.5 tons of force and also happens to be used to make bulletproof vests – the leash will keep even the pushiest walkers comfortably and securely within reach. In addition to delivering cool visual impact, the revolutionary KONG Frog clip has an automatic clamping system that ensures it never disconnects from your dog's collar unless intentionally opened at both anchor points.
$217+
BASTARDS Dog Necklace
Made using high quality black leather in a wide cut for a comfortable fit, the BASTARDS Dog Collar boasts a minimalist design that lets its robust hardware do the talking. The collar's closure, a GT Cobra® Buckle, is one of the strongest load bearing buckles available, and features a quick release mechanism that only comes undone when you want it to, so you never have to worry about it snapping or coming undone if your dog sees a squirrel or gets the sudden urge to pull. It even has a 3D printed belt buckle that lets you adjust the length as needed to achieve the perfect fit.
$237+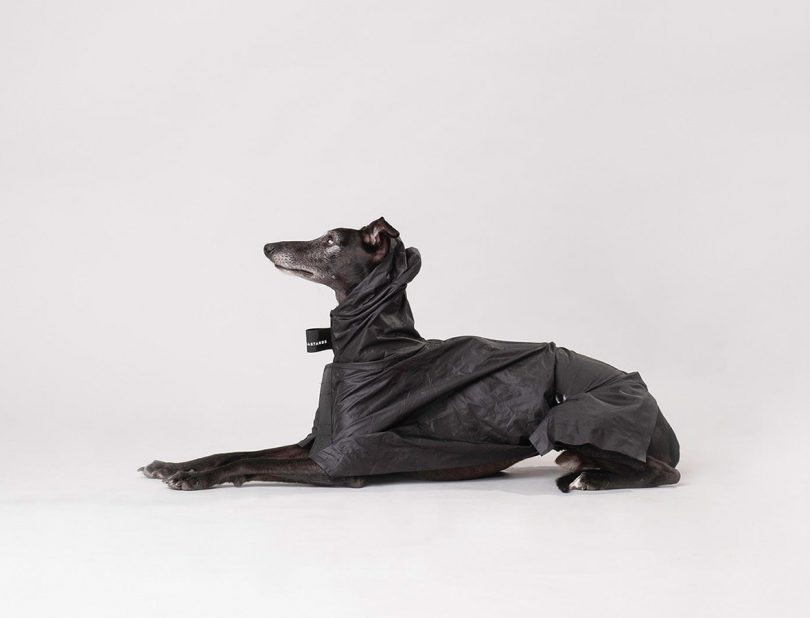 Black Slim Fit Raincoat
Thanks to its longer silhouette and lightweight waterproof material that has a matte, wax-like finish – the BASTARDS Slim Fit Raincoat is meticulously designed to keep all dog breeds dry during rainy day walks. Handmade to order with comfort and performance in mind, the coat wraps around your dog's body with ease, eliminating the need to wriggle it over their head. The magnetic closure, adjustable velcro hood, and double zipper detail to accommodate your dog's leash or harness, all work together to simplify rainy walks so you and your pup can stroll with confidence. For a roomier fit, check out their Fat Fit model and find the coat in a classic yellow colorway.
$307
Shop any BASTARDS dog wear? Snap a photo of your dog and tag us to be featured on the @designmilk Instagram!